MCR2 athletics and extracurricular activities are an important part of our school culture, and our students benefit from their peers, family and community members' support at these activities. The district asks that guests follow some basic guidelines to help make the activities a safe and fun experience for all spectators. Drugs, alcohol and tobacco are strictly prohibited on our campus. Pets are also prohibited on our campus, any animal on campus should follow BOE policy about service animals. All spectators are expected to remain within the general area of the activity they are attending (football game-concessions area or in the stands, basketball game-concessions area or in the gym, etc). We also ask that students are not throwing balls, or other objects, during the activity. We expect elementary students to attend with a parent, guardian or responsible adult. Please park in designated parking spots only so that all other areas of the buildings are accessible as needed. For outdoor events, special permission is required to park inside the gates (between football stadium and baseball diamond).

Eugene Frank is celebrating 40 years of service to our district! We truly appreciation is work and dedication.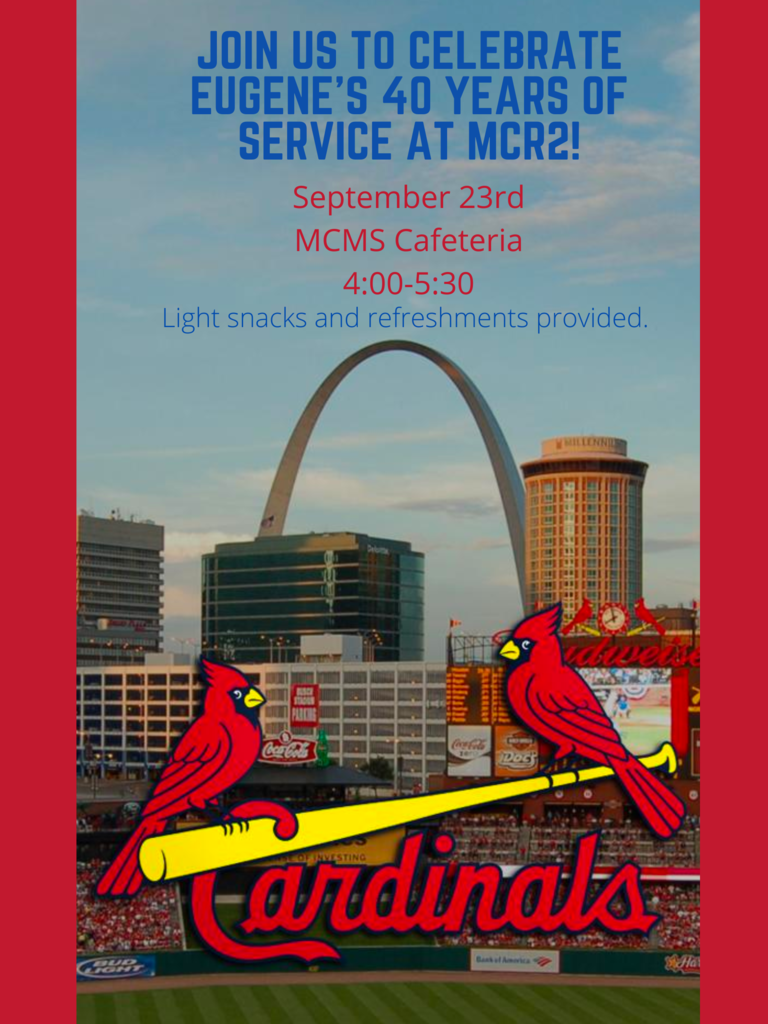 Online Registration is open until August 2, go to
https://sdm.sisk12.com/MG360x3/parent
to complete your student(s) enrollment for 2022-2023. Buildings will be open July 28, noon to 8:00 pm, for families to turn in proof of residency, immunization records, or any other documents and to get assistance with online registration if needed.

Montgomery County R-II is proud to announce Kate Healy has been named one of three Regional Teachers of the Year. This spring Mrs. Healy was named the Montgomery County R-II Teacher of the year; she will now represent our region of the state in the Missouri Teacher of the Year process. Mrs. Healy has been in education for 13 years, she currently serves as the 6th grade Language Arts teacher at Montgomery County Middle School. Kate has been a Wildcat all her life, she is a proud graduate who has become a dedicated teacher to the students in her community. Kate was nominated for District Teacher of the Year by two colleagues, you can read her nominations below. After her selection as MCMS Teacher of the Year, Mrs. Healy completed an application process and was selected as MCR-II Teacher of the Year. Mrs. Healy had tough competition in the district that included Mrs. Rhonda Vicente, Mrs. Kim Clements, and Mr. Joe Klekamp. "Kate goes above and beyond to make sure that she is reaching all of her students, not just the easy ones. She doesn't ever seek out the easy out as she works with kids to truly develop understanding within her content area but also to help these kids adjust to their new environment in the middle school of our district. She is always willing to help new staff members with any and all questions, and offer advice on how to handle situations that arise. She is one of the very best teachers I have ever come into contact with during my career in education." "Kate Healy goes above and beyond to help students and staff to be successful everyday. Kate is the kind of teacher who makes teachers want to be better teachers. She is the kind of teacher who makes students want to be better students. Kate works hard to improve her classroom curriculum and the middle school environment every day. I am one hundred percent positive that the Middle School is a better place for having Mrs. Healy as a teacher. I also think she is making our community a better place by preparing students to be successful members of society by teaching students based on their individual needs. Kate is always working during her free time and spending her own funds to help improve the learning in her classroom and to create a positive learning environment at the middle school. Kate's work ethic is filled with passion and drive to help challenge students to be the best they can be. Kate has been the teacher of the year every year I have known her, and she will continue to be for the rest of her career." Mrs. Healy submitted additional application materials and was selected as one of three Regional Teachers of the Year from the Heart of Missouri Regional Professional Development Center. Kate will receive a $250 prize and a scholarship to attend Teacher Academy. Mrs. Healy will be recognized at a celebration luncheon in Columbia on July 15. As a Regional Teacher of the Year, Mrs. Healy is eligible to apply for Missouri State Teacher of the Year. The Missouri Teacher of the Year will be announced in September.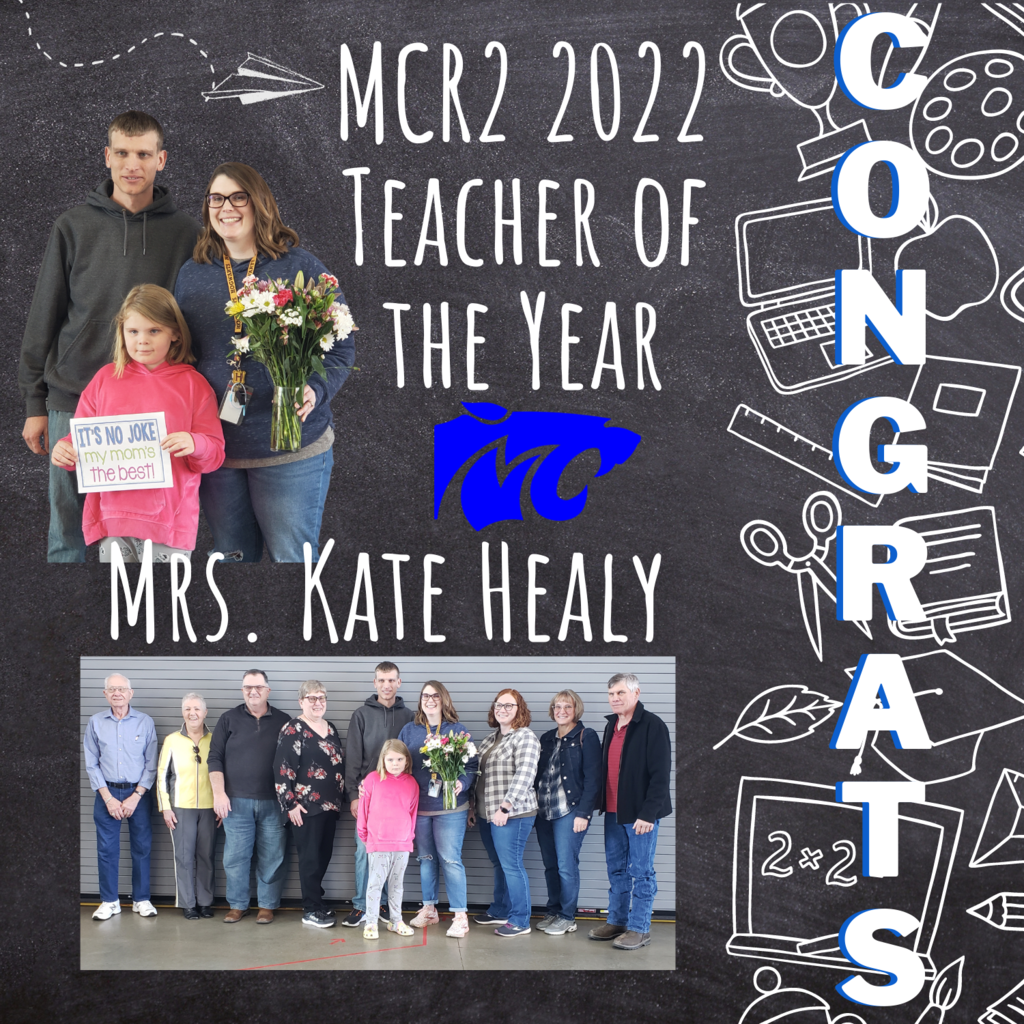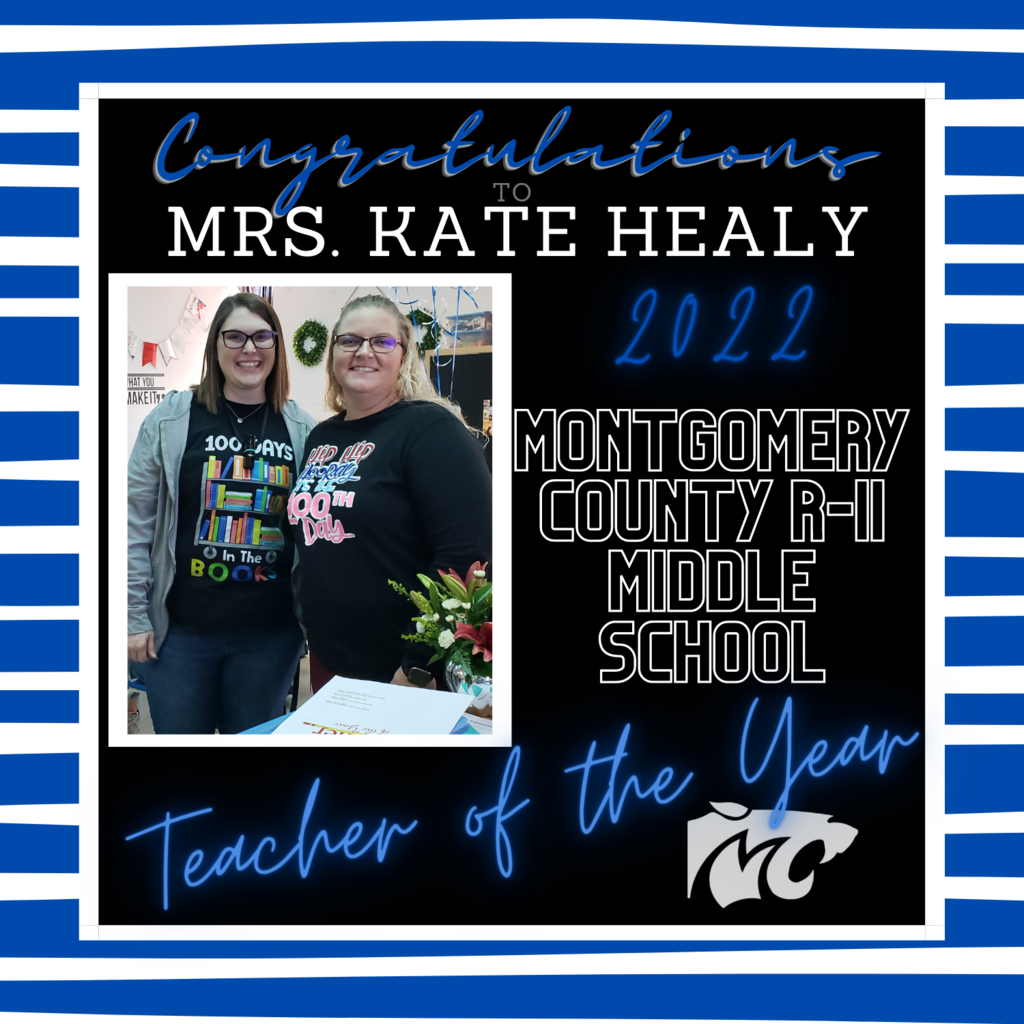 Check out the MCR-II webstore! This will be a great way to pay fees and make other purchases this school year.

2022-2023 Student Registration and Enrollment opens July 1 in the SISK12 Parent Portal! Check your email for details. All buildings will be open July 28 from Noon to 8:00 pm to assist families with online registration and enrollment.

Summer meals at no charge for 18 and under

Just a reminder that the Montgomery County R-II School District will be in session on Monday May 23, 2022.

The Class 3 Sectional Track Meet at Montgomery County will be delayed due to weather. Field events will begin at 12 P.M. and running events will begin at 1 P.M.

Current 2022-2023 Job Openings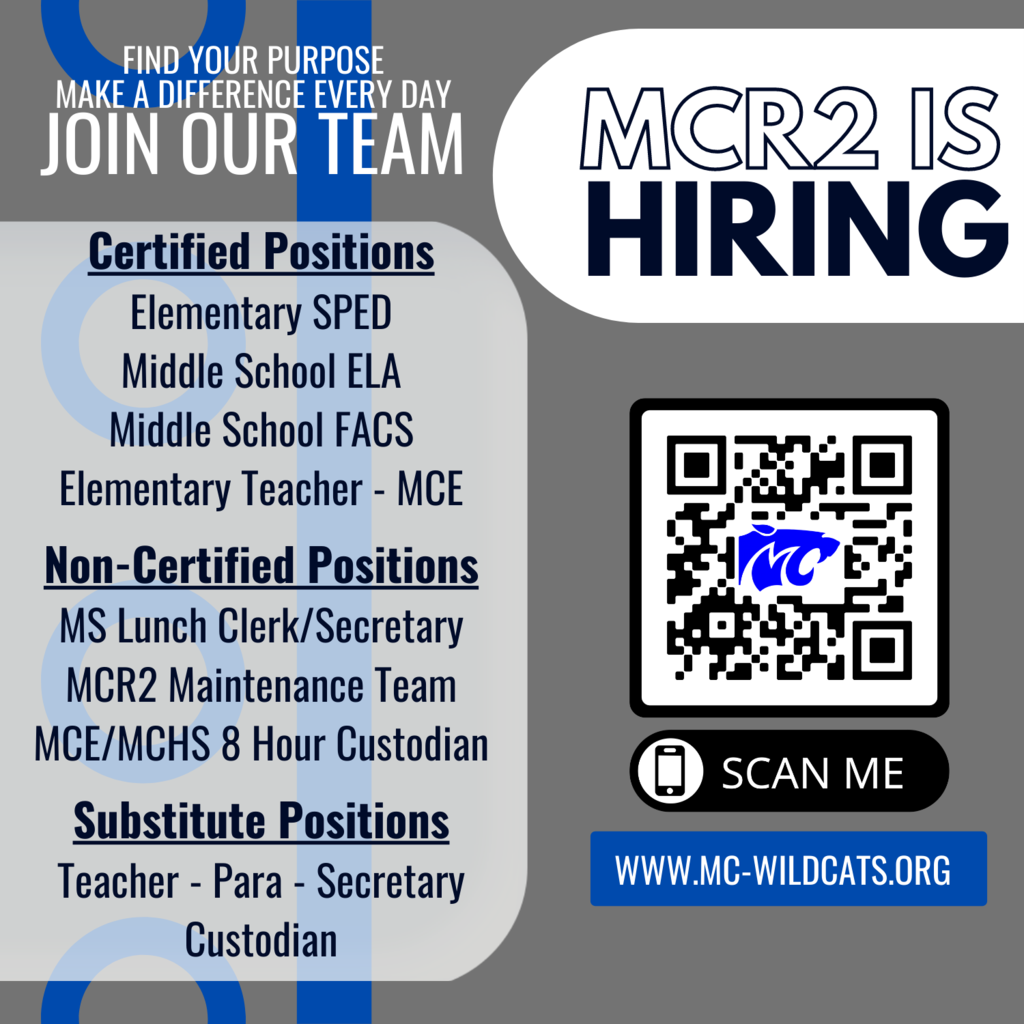 Please join us for the Counselors' Advisory meeting!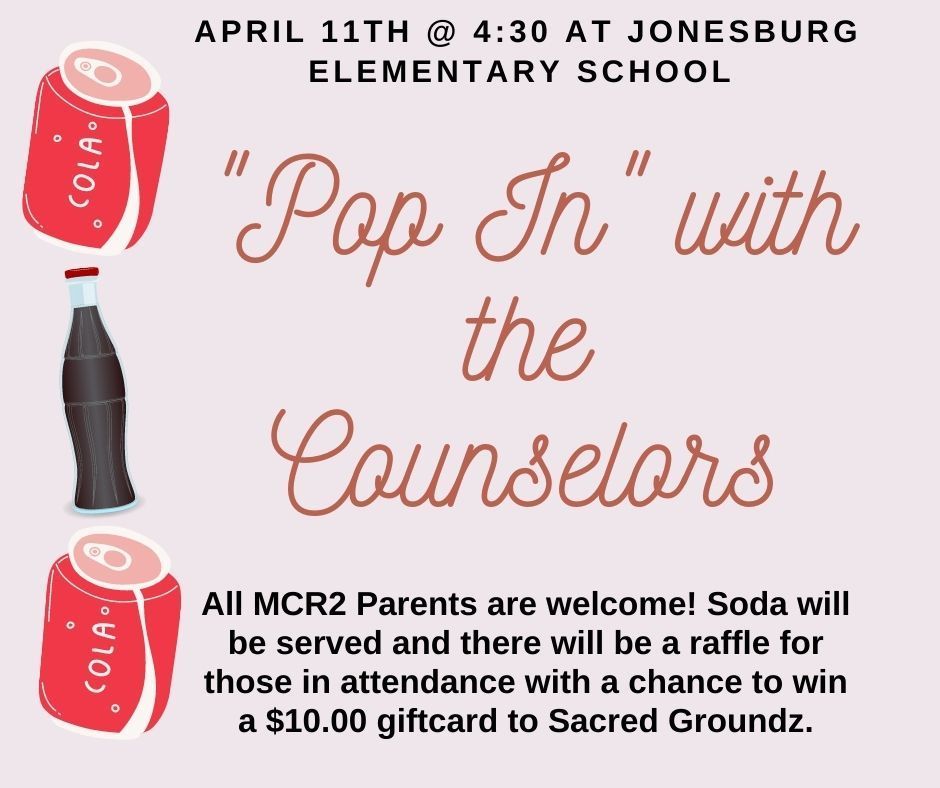 If you know of a child living in our district who will be 5 years old on or before July 31, 2022, please have them contact Jonesburg Elementary or Montgomery City Elementary to schedule screening and get on our kindergarten list for the 2022-2023 school year.

We are excited to announce each building's Teacher of the Year. A District Teacher of the Year will be chosen from the four honorees. Congratulations to: Mrs. Rhonda Vicente, Jonesburg Elementary School Mrs. Kim Clements, Montgomery City Elementary School Mrs. Kate Healy, Montgomery County Middle School Mr. Joe Klekamp, Montgomery County High School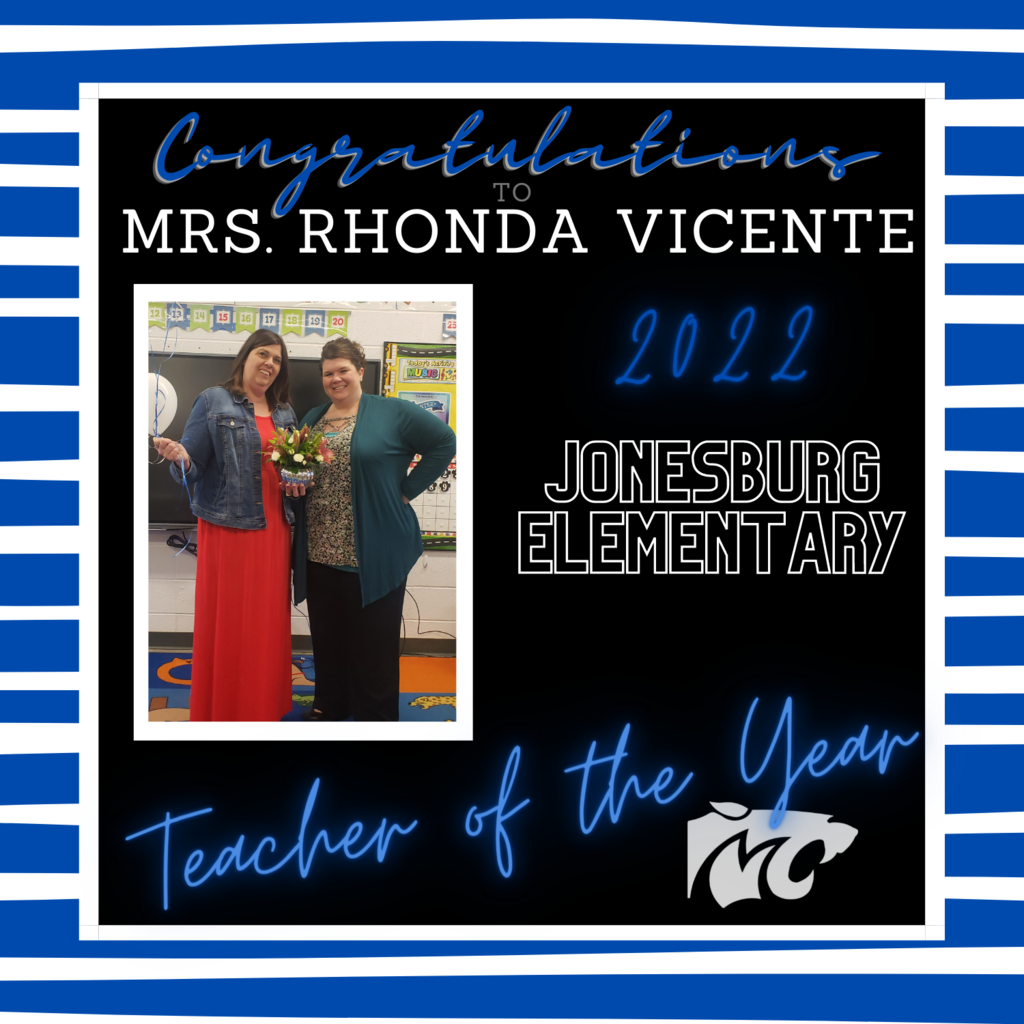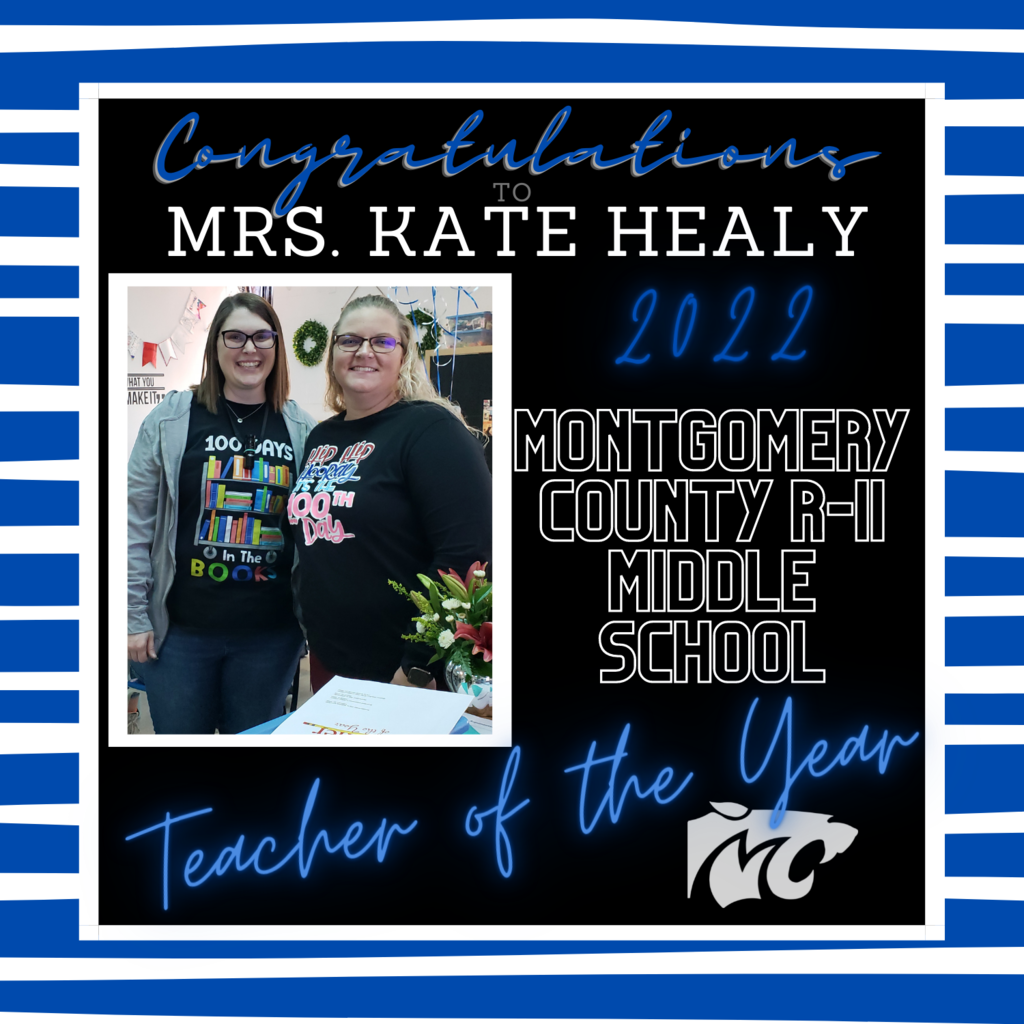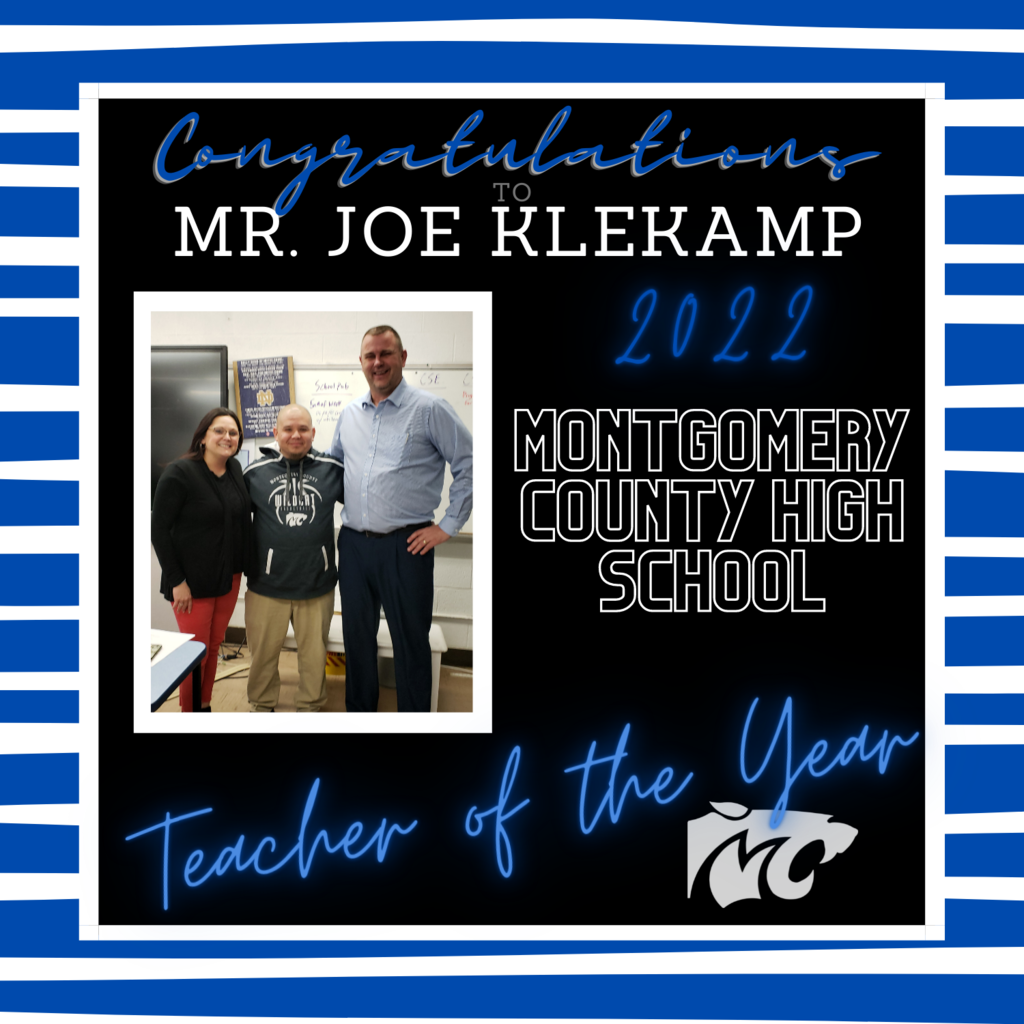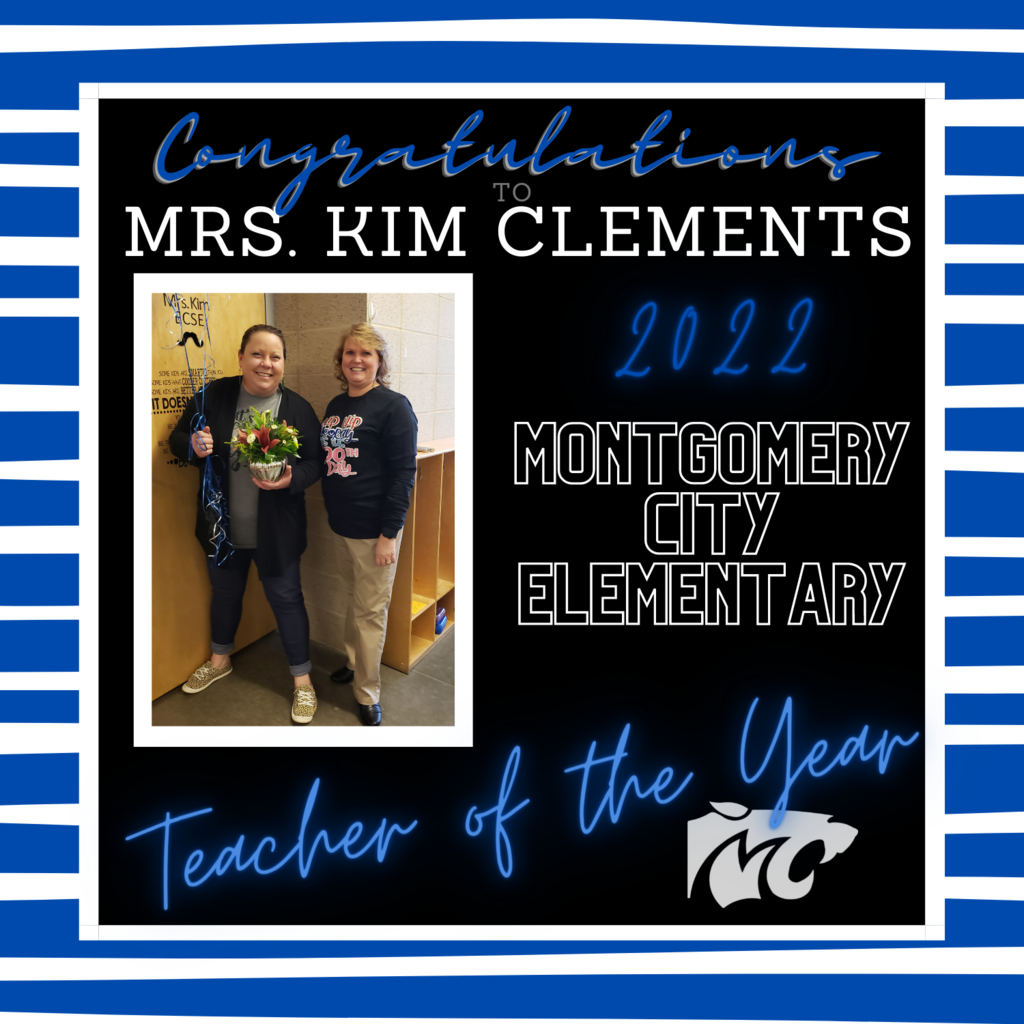 Calling all future Wildcats! MCR-II will hold kindergarten screenings for students that will be 5 years old before July 31, 2022. See the flyer for details about dates and scheduling appointments.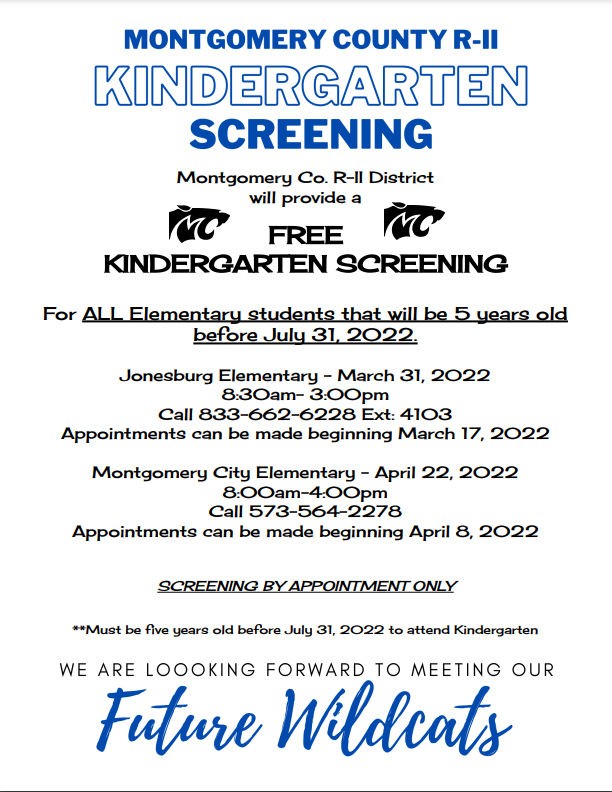 The MCR-II School District will be dismissing at 12:30 P.M. today (2/24/22). HS students will not be going to Vo-Tech, and their will be no P.M. Pre-school.

Montgomery County R-II will hold preschool screening for students interested in attending our preschool in 2022-2023 will be held at Jonesburg Elementary on March 16, and at Montgomery City Elementary on April 8. Please see the flyer for details.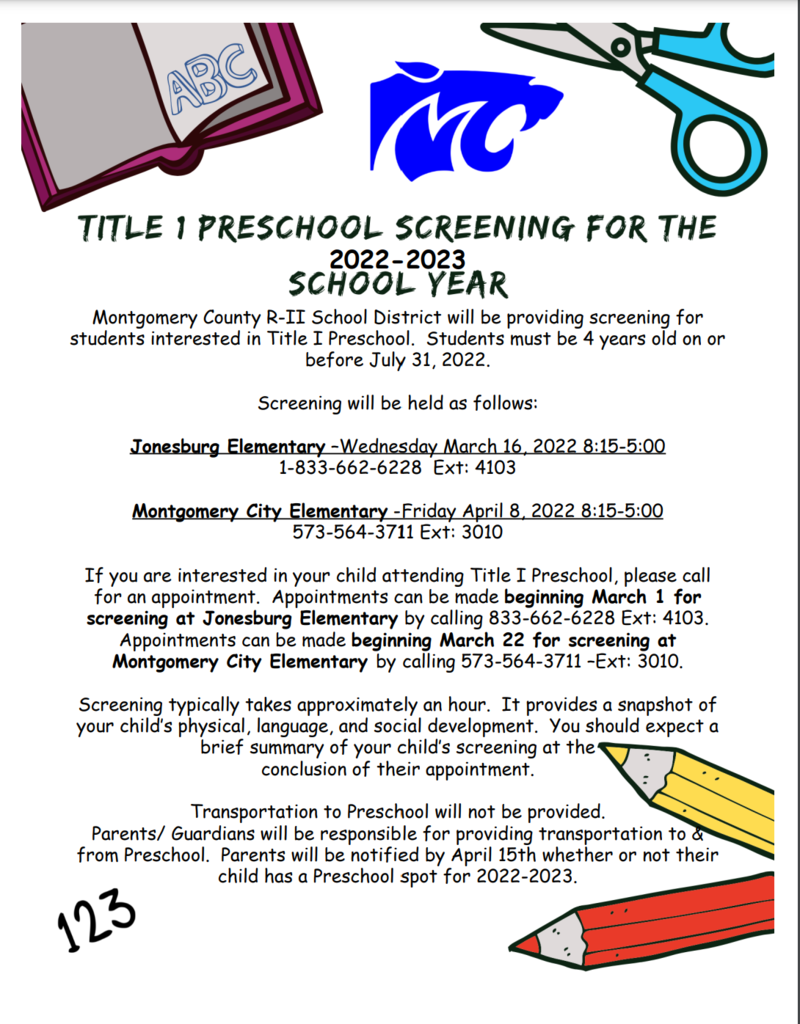 Due to poor road conditions Montgomery County R-II Schools will not be in session Friday, February 18. This will be a snow day, not an AMI day. A decision about Friday evening activities will be made by noon on Friday.

No school in the MCR-II School District on Friday February 4. Friday will be a snow day, not an AMI Day.

Our messaging service, Apptegy seems to be having an issue with their voice call system. No calls will go out, but as stated in previous texts, school is canceled for Thuesday February 3.