The track meet and baseball game has been canceled for tonight.

Students can purchase candy grams in the cafeteria for $.50. These will be delivered during AC lab.

Middle School girls basketball, at home is cancelled for tonight. Girls will have practice until 5:15. MS cheerleaders will not cheer or have practice tonight. Cheerleaders need to go home after school. MS boys basketball at Winfield will still be held at 5:30.

If you child is in student council, their permission slip and meeting dues to attend the Northeast district meeting at California High School on November 4th are due tomorrow to Ms. Woods

If you are a 7th or 8th grade student and are interested in basketball cheer, stop by Ms. Hardwick's office. Remember you have to have a MSHSAA physical before you are eligible to cheer. Forms can be found on the district's athletics page.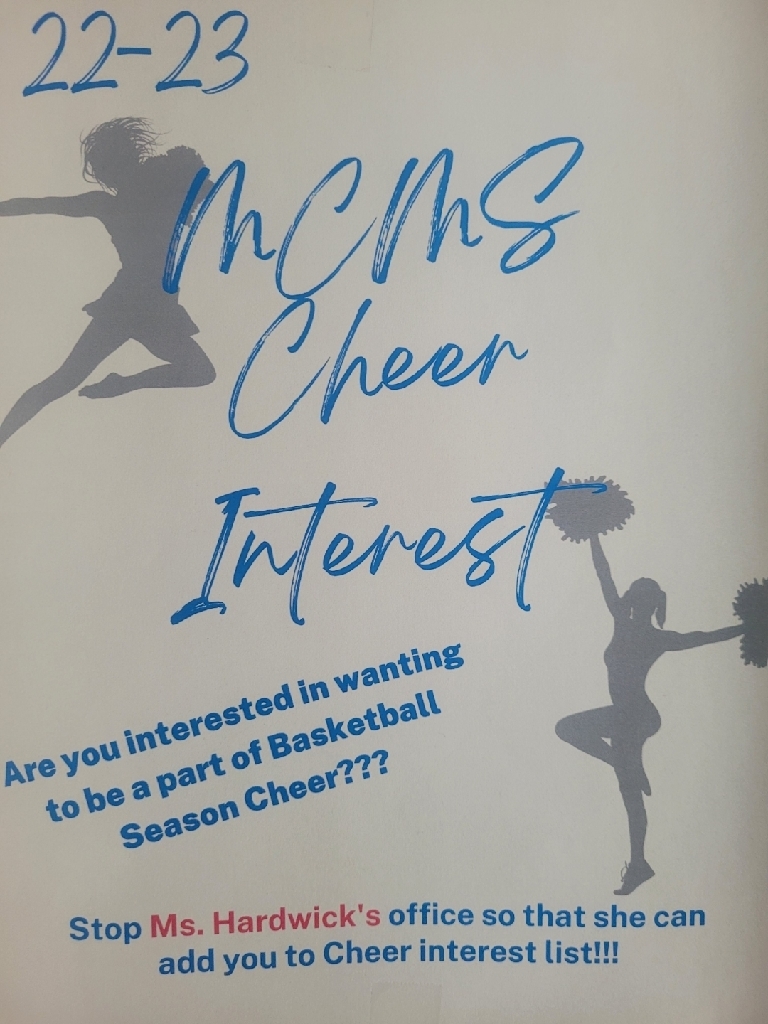 MCMS parents please see the following information about tonights after school tailgate. The tailgate ends promptly at 5:15. Parent pickup is at the Middle School cafeteria. We ask that parents use the parking lot lane (closest to the highway), like morning drop-off, for student safety.

Some of our 6th grade students working hard on improving their typing skills during their Plugged In class.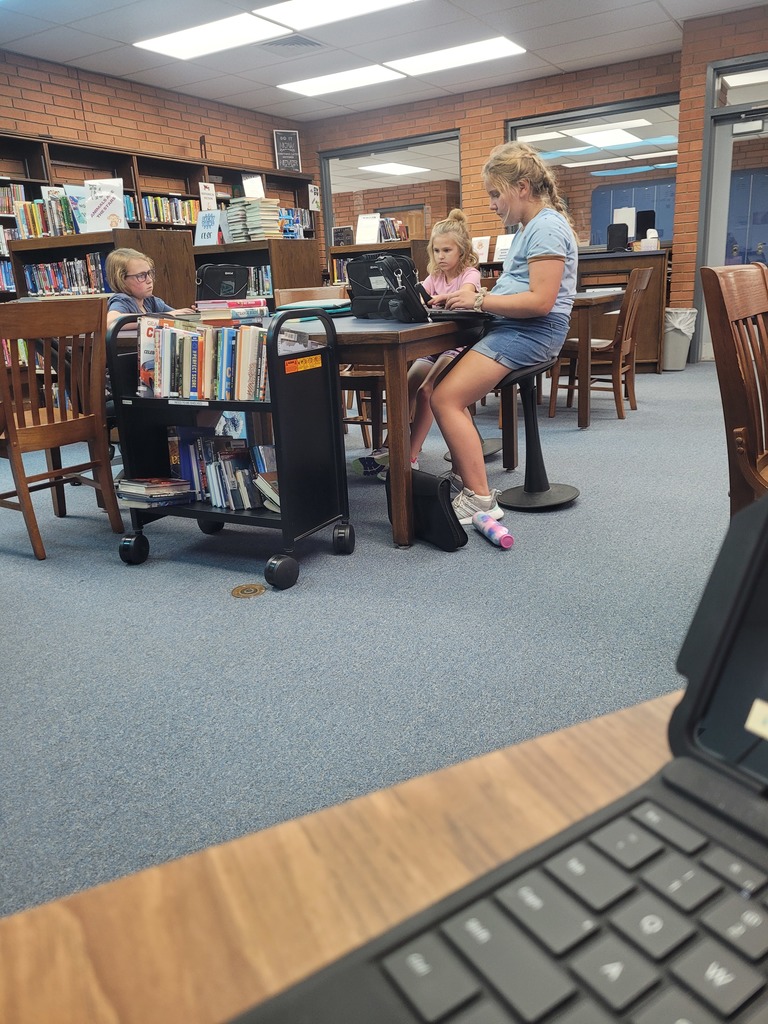 Middle School Football has been pushed back to a 6:30 start time. We will only play four quarters.

After-school tutoring begins September 6th at Montgomery County Middle School. Tutoring will be held every Tuesday and Thursday from 4-5 pm.

Informational Middle School cheerleading meeting, Monday, August 22 from 2:30-4:00 pm in the Multipurpose Room at the Middle School. If you have any questions contact Mrs. Godsil at
sgodsil@mc-wildcats.org

Updated practice time for Middle School practices. Practices start today. MS XC M-Fri 4:30pm-5:30pm at HS Track MS Vball Mon-thur 4-6pm MS GYM Friday 4-5:30pm MS GYM MS Fball Mon-Fri 3:30-6pm MS Sball Mon, Tues, Wed, Fri 6-7:30 MS field Thursday 4-5:30pm MS field

The MOCO Football Store is open once again for the next week. Middle School Summer Camp sign-up is here for students that have yet signed up. There is also a variety of MOCO Football and MOCO Wildcats apparel for purchase.
www.mocofbcamp.com

The following is the weight room schedule for our summer athletic enhancement and training program for the rest of the summer: Week of June 27-July 1: OPEN MONDAY-THURSDAY 7 am, 8 am (GIRLS ONLY), 9 am, and 5 pm Week of July 4-8: DEAD PERIOD NO TRAINING or WEIGHT ROOM HOURS Week of July 11-15: OPEN TUESDAY-FRIDAY 7 am, 8 am (GIRLS ONLY), 9 am, and 5 pm Week of July 18-22: OPEN TUESDAY-FRIDAY 7 am, 8 am (GIRLS ONLY), 9 am, and 5 pm Week of July 25-29: OPEN TUESDAY-FRIDAY 7 am, 8 am (GIRLS ONLY), 9 am, and 5 pm

Montgomery County Rotary's March student of the month was Kadence C. an 8th grader at MCMS R-II. This student was selected for showing the character trait of cooperation. This student was presented with a certificate from Rotary along with a gift card to Bundy's for the positive impact they have shown to others.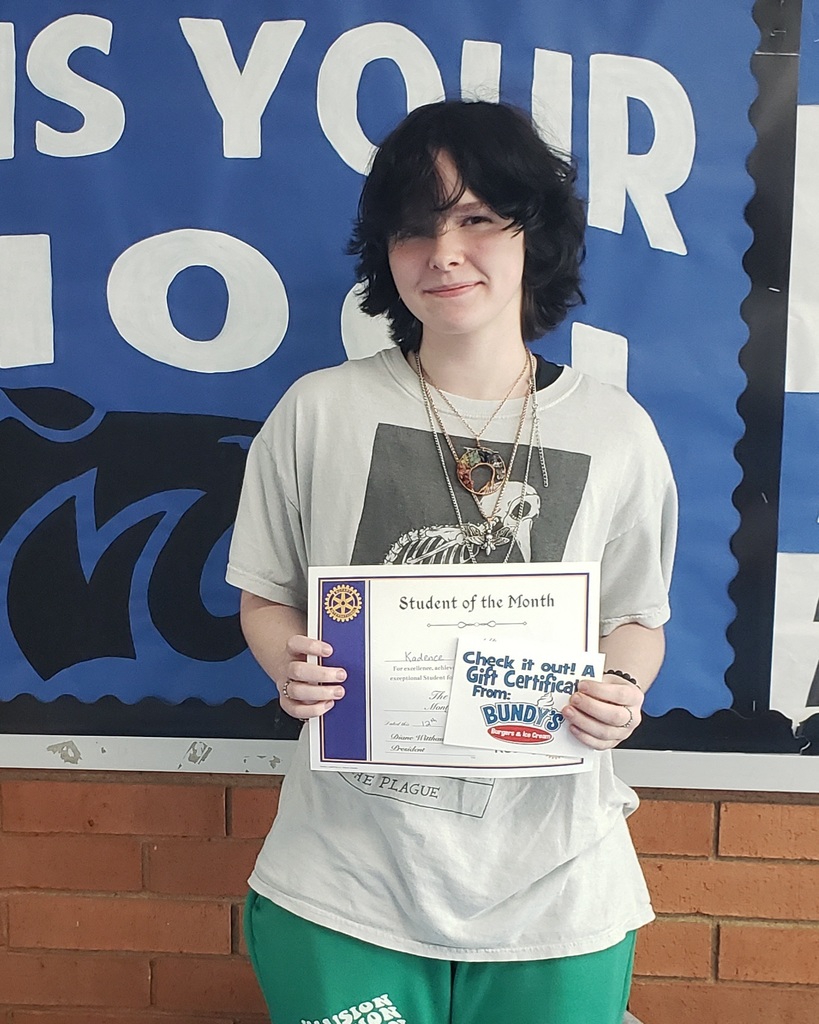 We received many compliments from the Heart Center staff about the wonderful behavior of our students today while they were touring. Well done 8th grade students!

Marvels!! What is a Marvel and what does it take to become one? Marvels are students that show exemplary behavior, work hard to maintain good grades, and show up to school ready to learn and on time! Students become a Marvel by meeting expectations by not having behavioral referrals, having an attendance of 95%, and not having any Fs on their report cards quarterly. Marvels get rewarded! Students that are recognized as a Marvel have been given hat passes, special outdoor time, snacks during AcLab, amongst other things. If they maintain Marvel status, they can even go on a small field trip at the end of the semester. This week we are honoring Marvels with outdoor time (or if weather is not permitting, indoor activities)


Parents please help your Middle School students remeber to charge their Chromebooks in the evening. We are having many students come to school and their Chromebooks are not charged. Thanks again for your continued partnership in helping our students be successful.