Young children shouldn't have to learn about tragic events, but they do. Some are exposed to disasters and tragedies firsthand, as victims. Others discover the tragedies by watching the news or overhearing adults or other children discussing the events. It is a sad fact that all children need to know how to deal with tragic events—and their parents and caregivers need to know how to help them cope. Please see the attached information from the National Association of Elementary Principals for resources to help parents and caregivers help their children cope with tragedy.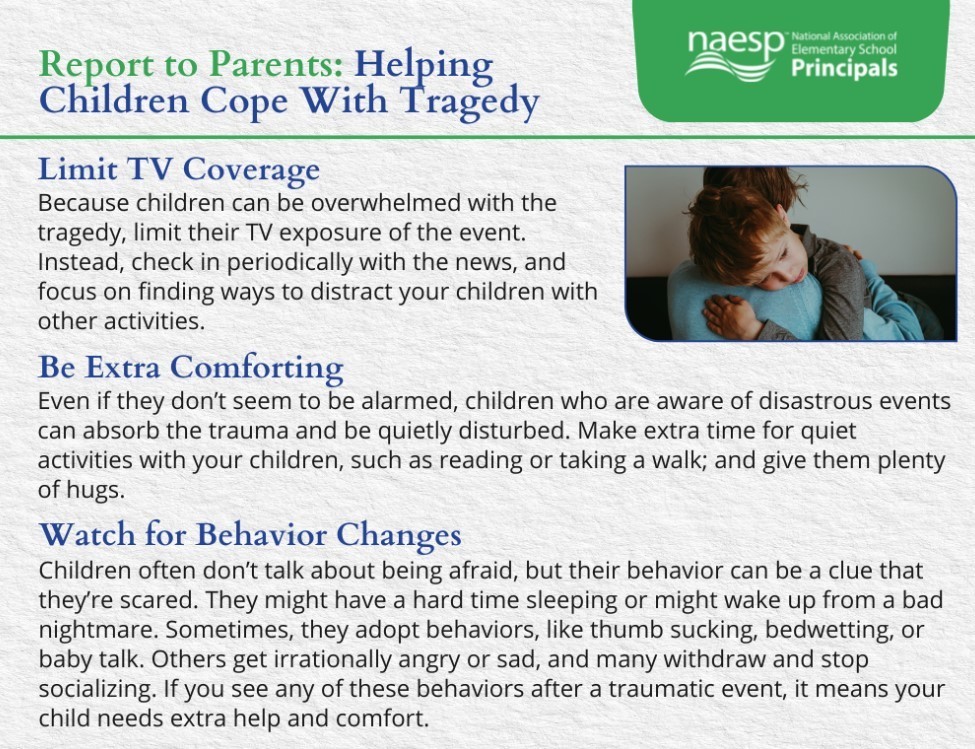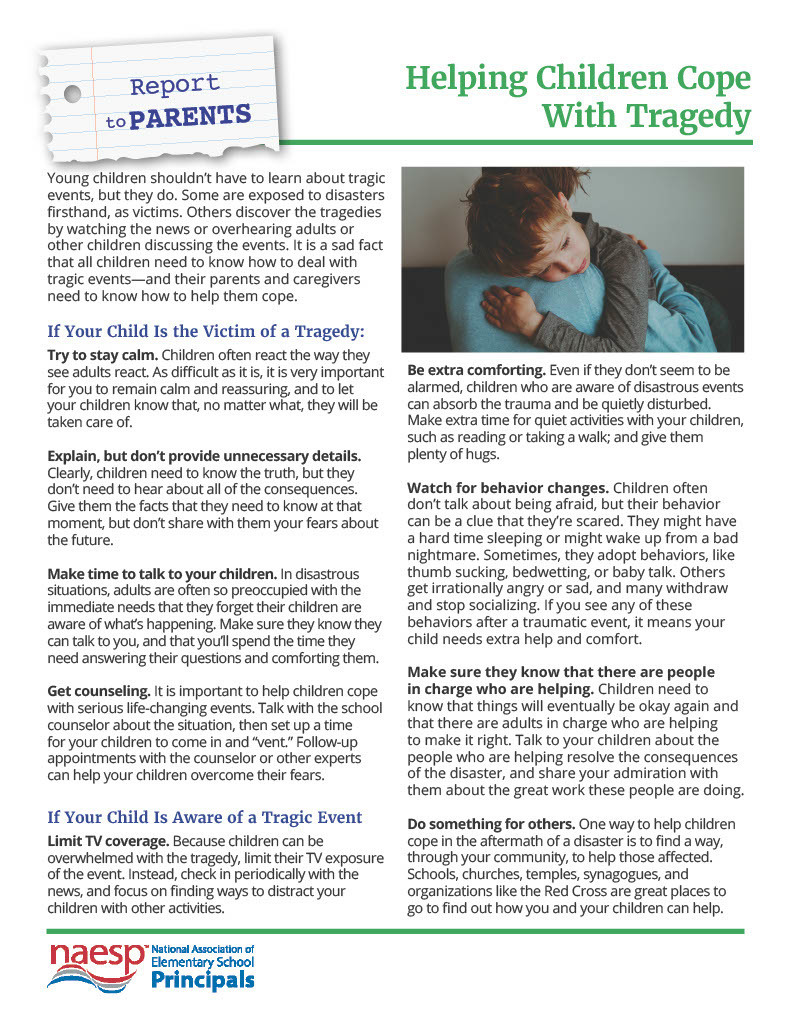 School is in session tomorrow, Monday, May 23rd. We will follow a Friday specials schedule. Thursday, May 26th is our last day of school for the 2021-2022 school year. Summer school begins Tuesday, May 31st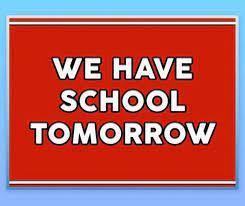 Tomorrow (Friday, May 20th) is our annual Bounce House Rewards Day at MCE. All Students must wear SOCKS to participate. Please make sure your child either wears socks to school or brings a pair to wear while playing in the bouncy houses. Reminder: We have school on Monday, May 23rd and Thursday, May 26th is our last day of the 2021-2022 school year!

Tomorrow, May 19th, is Field Day at MCE. Students will spend a majority of the day outside. There will be water play. Please send an extra set of clothes, shoes and sunscreen with your child to school.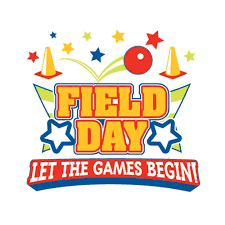 Please click the link to read our parent newsletter - MCE News! May 3rd Stay informed of all that is going on this last month of school.
https://www.smore.com/bd7v0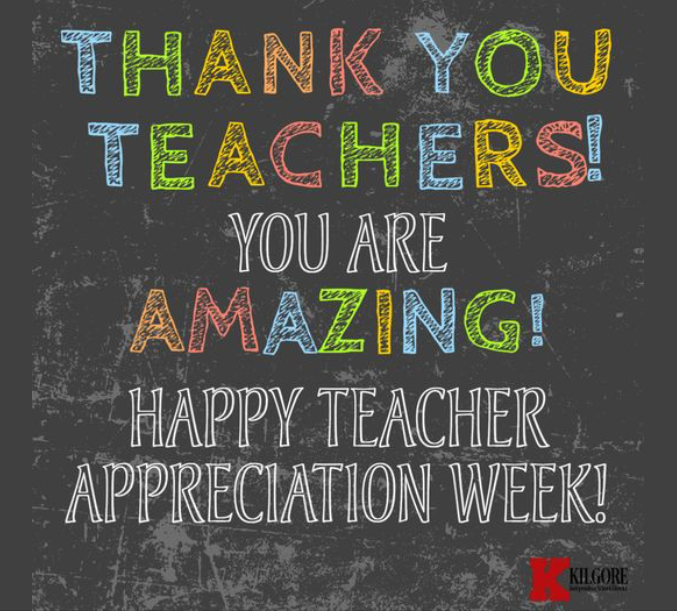 MCE's PTO Mom & Son Fun Night is TODAY from 5:30-7:00pm. The Book Fair will also be open!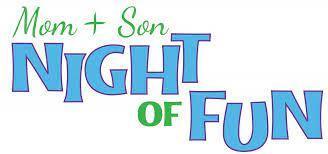 TOMORROW, Friday, April 22 is the Kindergarten Screening for the 2022-2023 School Year at MCE. If you have a child who will be 5 years old before July 31, 2022, please call our office to schedule a screening time. (573-564-3711 ) Kindergarten Screenings help prepare students and parents for their first school experience, and it helps us to determine the number of kindergarten classrooms we need next year. We can't wait to meet our future Wildcats!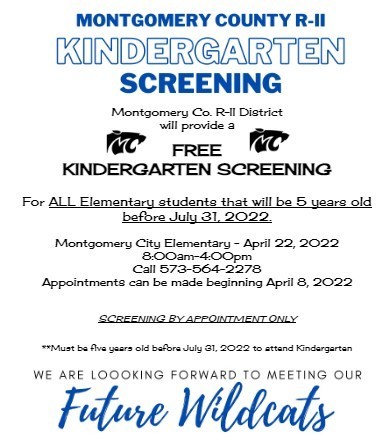 MCE's Kindergarten & 1st Grade Fine Arts night is TONIGHT! The matinee performance is at 2:30 pm in the gym The evening performance is at 6:00 pm. Students will have some of their artwork from this year on display and for purchase, just like a real art gallery. The Book Fair will be open tonight from 5:00 pm - 7:00pm. Please stop by to shop before or after the concert. PTO will host their last meeting of the year following the concert tonight in the MCE cafeteria.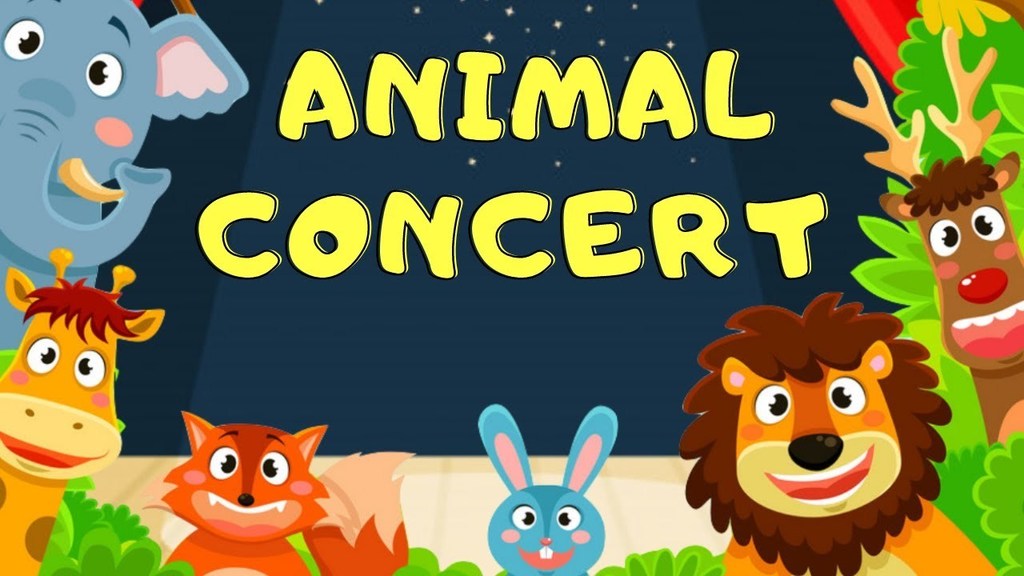 MCE Reminders for Wednesday, April 20th The Book Fair is open for "Donuts with Grown Ups" tomorrow morning from 7:30 - 8:00 am. Parents are welcome to come in to shp with your child before school starts. Tomorrow is Change the World Wednesday. Students may wear a hat for the day with a donation. All donations we collect tomorrow will support the Back to School Drive next August. Plan to pick up your trash bag orders after school, between 3:35 and 5:00 pm.

MCE trash bag orders will be ready for pick up tomorrow, Wednesady, April 20th. Please make arrangements to pick up the trash bags you sold after school tomorrow, between 3:35 and 5:00pm. You will need to park and come inside to get your order. You may not pick them up through the dismissal line.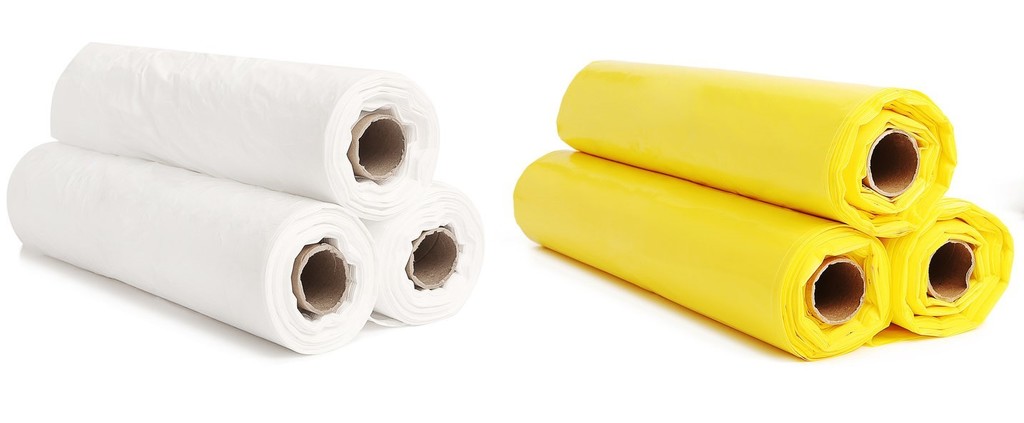 A few reminders for tomorrow, Wednesday, April13th: 1- The MoCo Cancer supporters eggs are due with any change you'd like to donate. 2. Tomorrow morning from 7:30 to 8 is Donuts with Grown-ups. Parents who want to come in and shop the BOOKFAIR with their students before school starts are welcome.

School is in session tomorrow, MONDAY, April 11th. We can't wait to see everyone at MCE! There is NO School on FRIDAY, April 15th.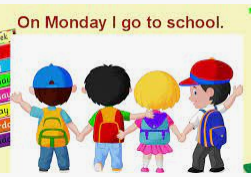 We are celebrating Opening Day for the St. Louis Cardinals tomorrow. All students are invited to wear red, or their favorite team's jersey to school tomorrow!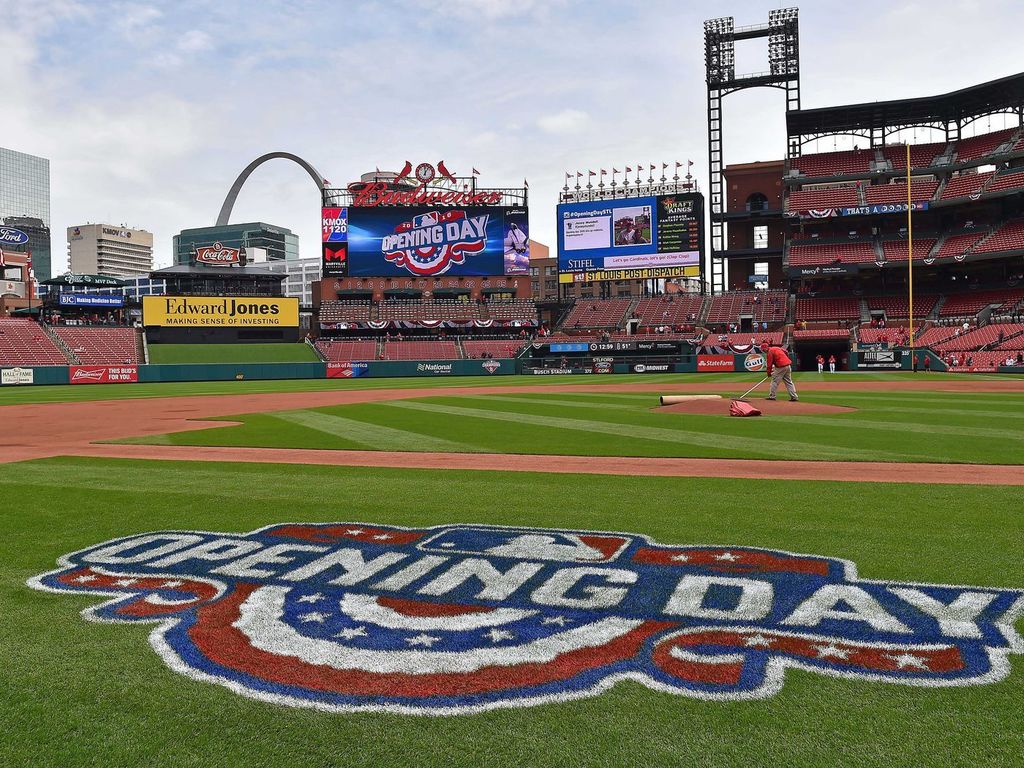 MONTGOMERY CITY ELEMENTARY Spring Personality Picture Day is: Tuesday, April 19, 2022 Dress your best from head-to-toe because Wagner Portraits will be at school to photograph creative studio-like personality portraits! All students will be photographed and picture purchases help support our school. All Elementary School students will be photographed. PRE-ORDER BEFORE PICTURE DAY & RECEIVE A FREE 4X10 DESK COLLAGE: Click the link to order:
https://bit.ly/3t6GmWR
www.WagnerPortraitGroup.com
Online Pre-Order Password: 8F9W9U8 All pre-orders receive: Free 4x10 Collage + Free shipping to school + Best pricing Thank you for your participation! Please direct all questions, concerns, or special requests directly to Wagner Portrait Group. We are happy to help! 314-567-5900 1-800-444-7986
www.WagnerPortraitGroup.com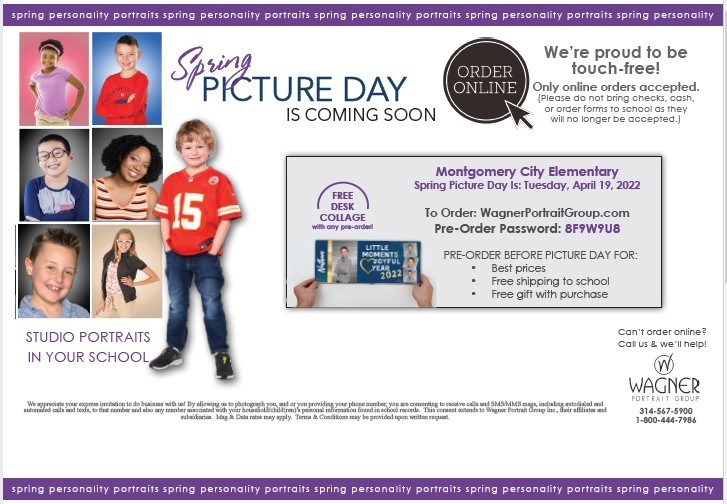 Every weekday before Nonstop News at 6:45 a.m., KOMU 8 features local school children, grades K-5, reciting the Pledge of Allegiance with their class. MCE's classes are currently being broadcasted. Click this link and scroll down to view some of our classes that have been broadcasted already.
https://www.komu.com/dailypledge/
You can view the Daily Pledge On-Air Calendar for an updated schedule of showings.*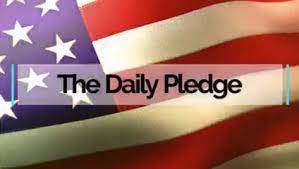 MCE's Spring PTO Carnival is TONIGHT! 5:30-7:30 pm in the MCE gym and cafeteria We hope to see you there!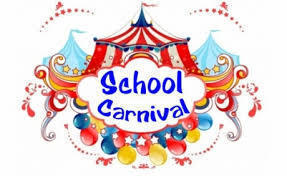 MCE's Spelling Bee has been rescheduled for TOMORROW - Wednesday, March 16th, in the MCE Gym. The schedule has changed. It will be: 1st grade - 8:30 am 2nd grade - 9:00 am 3rd grade - 9:30 am 4th grade - 10:00 am 5th grade - 10:30 am The parents of the students who qualified to compete are invited to come watch. (Students must have won their classroom spelling bee to qualify for the building level spelling bee.) The winners of our building spelling bee will qualify to compete at the Renick Spelling Bee on April 2nd.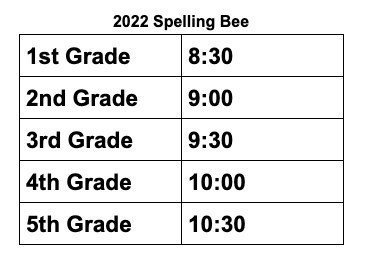 Due to road conditions the MCR-II School District will not be in session today, March 11. This will be a snow day, not an AMI Day.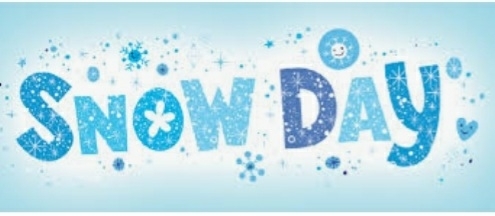 Reminders for tomorrow, Friday March 11th School Spring Pictures with Wagner Portrait Group PRE-ORDER BEFORE PICTURE DAY & RECEIVE A FREE 4X10 DESK COLLAGE:
https://bit.ly/3t6GmWR
www.WagnerPortraitGroup.com
Online Pre-Order Password: 8F9W9U8 Youth League (t-ball, baseball & softball) registration is due Building Level Spelling Bee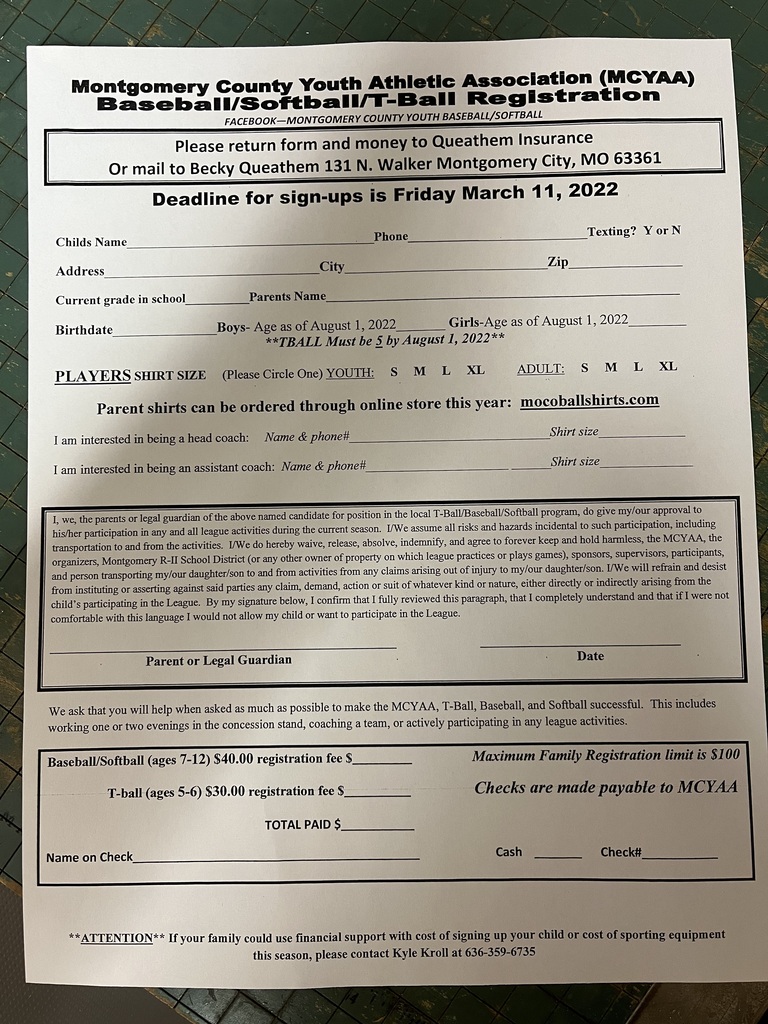 For TODAY ONLY - parents dropping students off at MCE, use the drop off lane closest to the school. Sacred Groundz is here today! If you are stopping for a cup of coffee, use the 2nd drop off lane and pull into a parking space. Then walk to get your coffee. We want to keep our drop off procedure running as smoothly and safely as possible this morning!